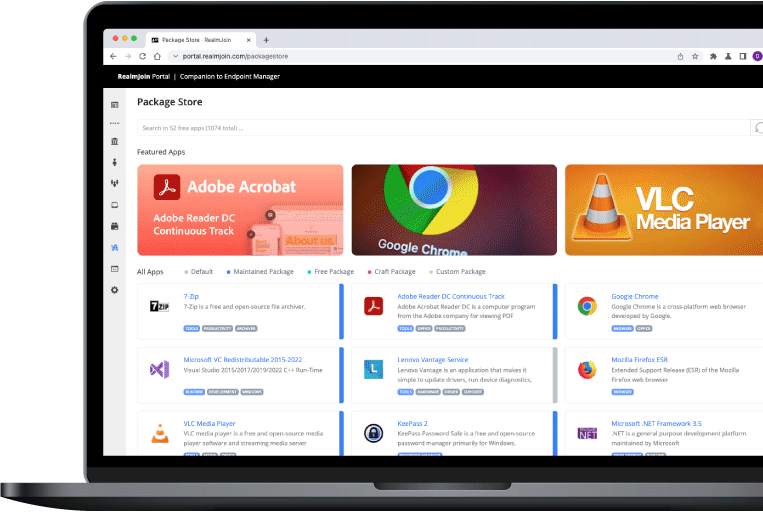 RealmJoin
Companion to Intune –
Application Lifecycle &
Management Automation Platform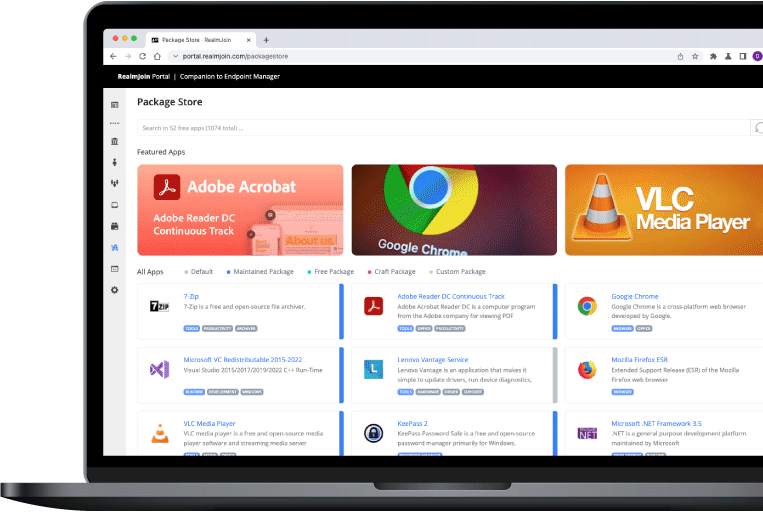 RealmJoin is the cloud born companion to Microsoft Endpoint Manager (Intune). It adds the missing pieces to provide an enterprise ready client management platform. RealmJoin improves the quality and reduces the efforts with nearly 1.000 pre-packaged standard applications for Intune, a modern package factory for custom applications and additional features like LAPS, remote support, Runbook automation and much more.
App Catalog with ~1.000 pre-packaged applications and high quality and audited custom application packaging (optional).
High quality packages with advanced parameters and curated content
Maintained packages with 24-48h security update service
Fixed pricing, fast delivery of custom application based on audited git repostitories and CI/CD package factory
Software Lifecycle Management with pre-release and group management, optional telemetry of usage
SaaS based 'deploy to Intune' and auto-update management
Single Source, multiple packaging options for IntuneWin, MSIX or Chocolatey
Advanced telemetry of application usage and software asset management
Power up the management functionalities of Intune for your single tenant or multi-tenant administration
Get new insights with an extended inventory of your clients
Enjoy consolidated and relevant information for your client management work from several sources in one web-console
Group based user notification and alerting to inform about system maintenance or outages
Provide an easy to use web-interface for your help-desk staff
Leverage the power of Intune in your help desk
Execute important tasks with "just a click"
Integration of remote support tools and help desk tickets
Integrate a growing collection of Azure Runbooks to streamline and automate User, Group, Device and Application management.
Curated GitHub repository of Runbooks
Context based functionality by offering the right Runbooks to support staff
Ready-to-use collection of typical tasks like user/group creation, Out-of-Office settings, Onboarding/Offboading, etc
Template management for parameters like office locations, user creation rules, default parameters, etc
Azure Log Analytics long time audit of all support actions
Custom Runbook integration
Elevated rights for specific people and tasks
Local Admin Password Solution for native Azure AD joined Windows and Mac devices
LAPS creates strong passwords for local accounts which are stored securely in Azure Key Vault
On-Demand or Pre-Provisioned accounts available
Audited access for support people in SaaS based management platform
Three types of LAPS accounts are available
Emergency Account (pre-provisioned account for use in cases of network-loss, hardware-issues, etc)
Supporter Account (on-demand or pre-provisioned elevated activities for remots support sessions)
Privileged account (used by power users that need regular but controlled admin privileges on their own devices)
Windows 10/11 clients
Windows based VDI clients
(AVD, Windows 365)
Mac clients for LAPS
(app lifecycle on roadmap)
Mobile clients for Intune management
RealmJoin is a Software as a Service (SaaS) that connects to you Microsoft365 tenant.
Basic initial deployment is done in minutes
Advanced consents required for specific features
50 to >100.000 users
High availability and geo-redundant ecosystem
more than 300.000 seats onboarded today
Intune
RealmJoin CDN & client
Intunewin packages
Chocolatey packages
AppV packages
MSIX packages
Single- or multi-tenant enrolment
Managed Service Provider license available
Automate tasks in mulitple tenants
Our development and operations teams and SaaS services are certified
Incident support and all updates included
SaaS model, no installation required
Bi-weekly ecosystem updates
Pay for active users only (automatic monthly counting)